Eric Edson Announces Audiobook Release
Hello writers all:
In this holiday season of gratitude, I wish to offer a deep thank you to the many writers, readers and storytellers who have joined me on this journey toward finding a better way to create great screenplays and novels.
I'm a teacher by nature, and I wrote The Story Solution to provide no-nonsense information about succeeding in this challenging art form of screenwriting. I've been rewarded by hearing from so many of you how you've used these tools to develop a powerful new command in your own writing.
So, I am very pleased to announce I've just released the audiobook edition of The Story Solution, now published world-wide by Audible.com, an Amazon company. It's unabridged, and narrated by – yeah, you guessed it – yours truly. What an amazing experience it was to create this audiobook. I send out a special thank you to my colleague Professor Joel Krantz who did the recording, editing, and mastering.
As many of you know, the book is based on my new screenwriting paradigm of the "23 Actions All Great Heroes Must Take." Listening to this audiobook, writers and filmmakers can learn the interconnecting, powerful storytelling elements you need for screenwriting success. And you'll discover the story structure reasons most new spec scripts don't sell, so you can avoid those errors.
I've also included scores of examples from popular hit movies to illuminate how the brand-new insight of my Hero Goal Sequences blueprint creates dynamic three-dimensional Heroes and Heroines while building the captivating, emotion-filled plots that can lead to blockbuster movies.
Writing a good screenplay is hard work. And I'm excited that this audio recording of The Story Solution allows me to reach out to all of you who learn best by listening. Now I can share insights about what you need to know to become a working screenwriter in Hollywood with many more writers.
I'm most pleased to report that this audiobook version came out very well, indeed. And for those of you who have just recently joined our growing tribe of screenwriters, let me add:
The Story Solution presents a fresh approach to building powerful screenplays, and it's now regarded internationally as one of the best books on screenwriting. It contains in-depth chapters on:
Story structure
Creating dynamic characters.
Improving your rewriting skills.
The dos and don'ts for powerful dialogue.
How to find and fix hidden story problems before they can sink your script.
How to give your heroes emotional depth that movie stars will be dying to play.
Many thanks to everyone. May this holiday season bring you much warmth and joy.
Write ever onward.
All best wishes,
Eric Edson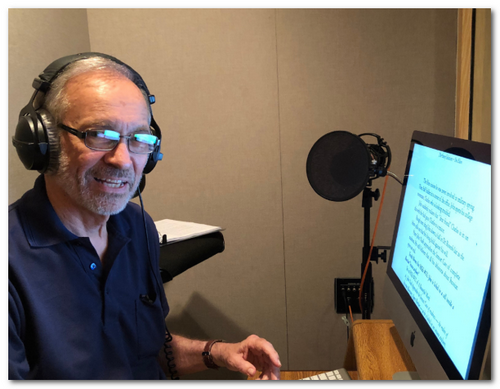 If you still need a copy, The Story Solution is also available on Amazon USA, so pick one up today. (Makes a great gift, too!)
Here are some other valuable conversations with Eric that can help improve your writing:

About The Story Solution: Eric Edson's The Story Solution provides concrete insights for those interested in writing screenplays. Visit the website at http://TheStorySolution.com to download a complimentary book chapter and view Masterclass clips about creating characters. "Like" the Facebook page to receive scriptwriting tips and get more information about screenplay writing.