DOWNLOAD ERIC EDSON'S HERO GOAL SEQUENCE BREAKDOWN FOR
"BACK TO THE FUTURE"
Written by Robert Zemeckis & Bob Gale
DEFINITION OF HERO GOAL SEQUENCES
A Hero Goal Sequence generally consists of 2 to 8 pages of screenplay (2 to 8 minutes of film) in which the hero pursues a single physical, visible, short-term goal as one immediate step in achieving the main overall story objective driving the plot. The Goal Sequence ends when the hero discovers FRESH NEWS, which is some form of new information that effectively ends the necessity to pursue the current goal and creates a new physical, visible, short-term goal – thereby beginning the next Hero Goal Sequence. FRESH NEWS either provides the hero's next short-term goal, or sends the hero on a short search to find it.
✅ EVERY commercially successful one-hero American movie contains between 20 and 23 Hero Goal Sequences.
✅ Act One ALWAYS contains 6 Hero Goal Sequences, and Stunning Surprise One ALWAYS takes place as FRESH NEWS in sequence #6.
✅ Act Two ALWAYS contains 12 more Hero Goal Sequences, and the Midpoint Sequence ALWAYS takes place during Hero Goal Sequence #12
– while Stunning Surprise Two ALWAYS arrives as FRESH NEWS in Sequence #18.
✅ Act Three contains a minimum of 2 Hero Goal Sequences and a maximum of 5.

Brilliant. Invaluable for writers and filmmakers. This book will change the way screenwriting is taught.
–Michael Hauge
⭐⭐⭐⭐⭐
Eric Edson has written seventeen feature screenplays on assignment for such companies as Sony, Warner Brothers, Disney, 20th Fox, ABC Motion Pictures, Lifetime, Showtime, and TNT. To date, six have been produced. He is a professor of screenwriting and Director of the Graduate Program in Screenwriting at California State University, Northridge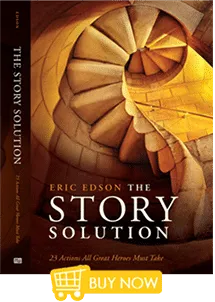 Discover the new Hero Goal Sequences method for screenwriters and novelists to create dynamic heroes and powerful stories that get deals.
The Story Solution
"A clear path to a Hollywood sale."
– Erica Byrne, Screenwriter